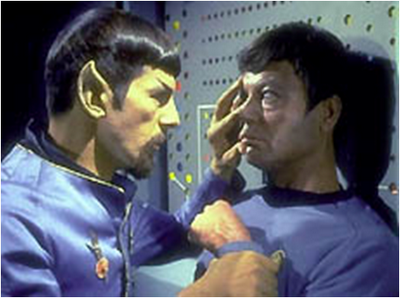 The simulated response of anyone who could see inside my brain. So like, the mind meld reversed. You get it.
I'm not like everybody else. I know this about myself.
And I don't mean in a way where I can, like, tell people I'm "artistic" or claim that I have access to some kind of nebulous existential reality wherein people find it appropriate to do things like shop at Anthropologie exclusively or something.
I'm not like everybody else because my brain works against me nearly 24 hours a day. (Note: this also doesn't mean I'm a hypochondriac, suffering from multiple personality disorder, dealing with a brain tumor, etc.) It just means that my brain won't shut the eff up, even when it's painful and suffocating and I really, really want it to.
I know this now because I've accepted the reality that things are just harder for me than they seem to be for other middle-of-the-road, not suffering from poverty/illness/or other such affliction type people. And I say this knowing full well that most people's reality (or relative "hardness" of life) isn't accessible to me 99% of the time. If Facebook is any clue, the entire population of people I went to high school with is on a continuous ecstasy trip that involves a lot of scrapbooking and DIYing offensively large headbands for their children.
That being said, I also know that everything is hard for everyone. This is something I've decided. People are very good at saying what they're meant to say when they're meant to say it. But everyone gets it one way or another, coming or going, I expect. Is that consolation? Or just really, really sad? I guess somewhere along the line you have to choose that it's consolation, otherwise what's the use of it all, really.
And how can you say, in all sincerity with no intent but to tell it like it is, that it's exhausting? That you're tired? That when people tell you just to "stop worrying" or (my personal favorite) "don't be so hard on yourself," you really just want to put your hand on their face and do some kind of Vulcan mind-twisty thing so that they can see that the trying to "stop worrying" and trying to not "be so hard on yourself" is all you can do and anything else on top of trying would be a lifetime achievement?!
You can't.
Because you sound like a douche, and they don't get it anyway. In fact, they secretly wonder if you also have two half-finished novels in the works, one that involves some sort of sci-fi fantasy scenario, and one in which your thinly veiled high school self is way cooler than you ever actually were. That, or you love Celine Dion.
In any case, it isn't flattering. So you never say it, and when you do, you regret it immediately.